Your reference e-commerce platform for Premium Tubulars and Services
Smartengo is Vallourec new e-commerce platform to streamline tubular products and services sourcing. Today, discover, configure and enjoy a new digital customer experience.

You can now Order Online, Save Time, Gain Flexibility and Buy Smart!
Enjoy a real online customer-centric environment
Smartengo's ambition is to renew relationships between supplier and user with new contents and access to data:
>>1. Smartengo streamlines sourcing of tubular solutions with real-time and direct information on availabilities, lead-times and pricing.
>>2. Smartengo™ is the first stone towards the ambition of being the tubular market place!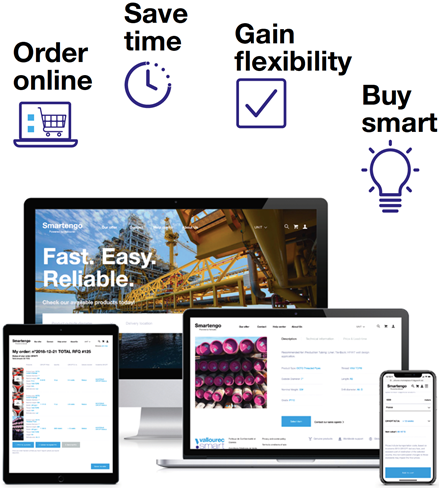 You can now benefit from:
A SERVICE
Get access to OCTG market information (price & inventory level) to build a budget and optimize purchasing decision
Ideal tool to generate offer and trigger orders for short lead time (below 3 months)
First wholesale OCTG experience (depreciated stock) - While keeping benefit from manufacturer's guarantee
A PROMISE
Fast: FAST enquiry and FAST delivery. Access available inventories worldwide !

Easy: EASY procurement process. Buy in a few clicks and save time !

Reliable:
No compromise on QA/QC as all those products are provided with all certifications
Full traceability available for all products purchased directly from manufacturer
Offers are made according to existing stock, no risk to have the offer invalidated later on.